Vis Give Day
2019 Vis Give Day Progress
Thank you for your generous support! We exceeded our goal!!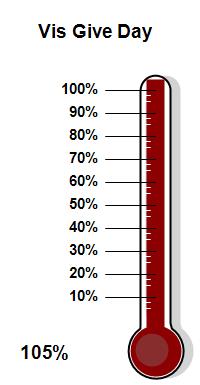 Vis/STA Competition
Congrats to Saint Thomas Academy and Visitation School on a successful give day!
VIs: $525,539





STA: $429,485
Vis Give Day is November 13

Join us on Vis Give Day, our annual day of giving, on November 13 for Visitation's community-wide effort. Your DeSales Annual Fund donation or pledge will provide tuition assistance to remarkable students, help ensure our amazing faculty continue to deliver an outstanding curriculum and sustain the Salesian tradition of the Visitation Sisters.
Donors at Visitation give for many reasons and their generosity has an immense impact on the Visitation community. Donations sustain the independent, Catholic, Salesian tradition here at Visitation – the very foundation of who we are. Make YOUR impact today!

Help us reach our goal! Our goal is to raise $500,000 on Vis Give Day. Gifts can be made by check, credit card, stock transfer or a donor advised fund. Pledges made now and paid by June 30, 2020 will also help us reach our goal. Many employers will even match your gift! If you need assistance making your gift or pledge, contact Beth Giese, Director of Development and Community Engagement, at 651-683-1702. Together, we can reach our goal and provide an education for life.
A WINNING DAY FOR VISITATION
By making your DeSales Annual Fund gift or pledge on Vis Give Day, you help kick off the Annual Fund campaign. Cash, credit cards, checks, stocks and pledges will all count toward reaching our goal.

2019 Give Day includes a friendly competition with Saint Thomas Academy to see who can raise the most dollars, achieve the highest percentage increase of total donors and highest percentage increase of new donors. Let's go Vis!
Thank you for being part of the powerful tradition begun by the Visitation Sisters in 1873 that gives students a strong foundation of faith, education and leadership.
Join in Vis Give Day Challenges!
New Donor Power Hour, 10 – 11 a.m.
Triple your gift up to $50 if you are
a new donor or have not made a gift in the past three years.
Sed Vitae Power Hour, 2 - 3 p.m.:
Double your gift by joining the leadership society of the DeSales Annual Fund
Match Madness, 6 p.m. – midnight: Double your gift to the DeSales Annual Fund. Anyone making a gift of any amount is eligible until our matching funds run out!
Please contact
Beth Giese
, Director of Development and Community Engagement
at 651-683-1702.